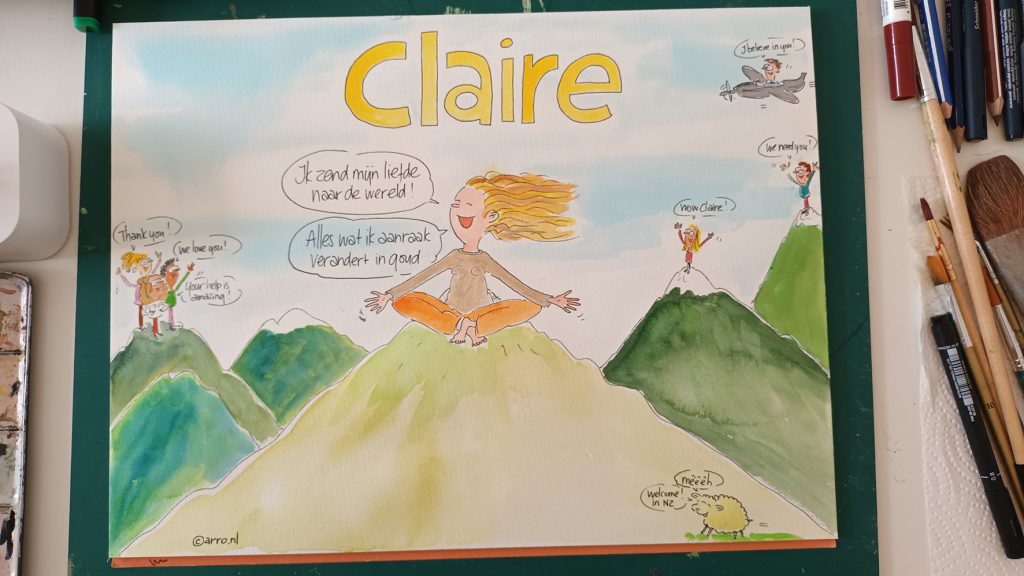 Claire Richardson van Claire's Mission schreef een prachtig blog over haar ervaring met haar Soulselfie. Je leest het HIER.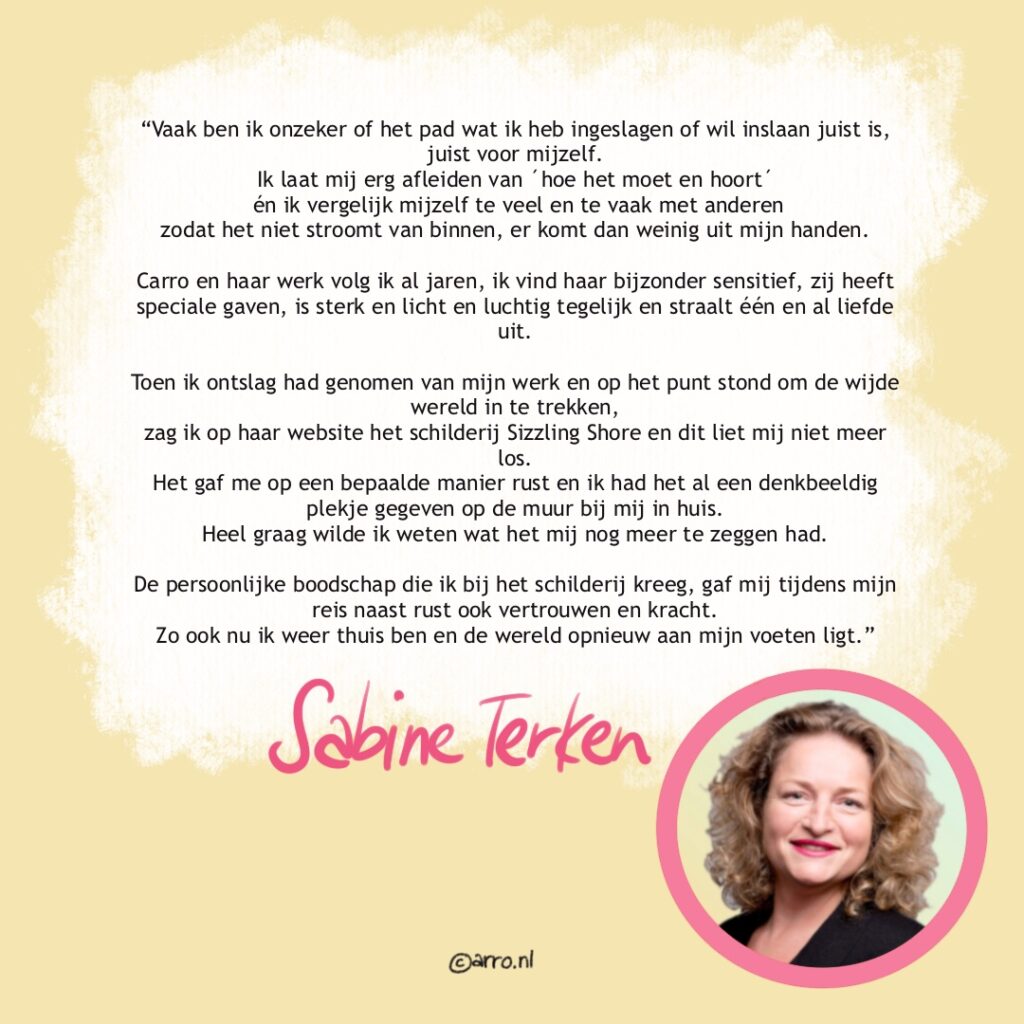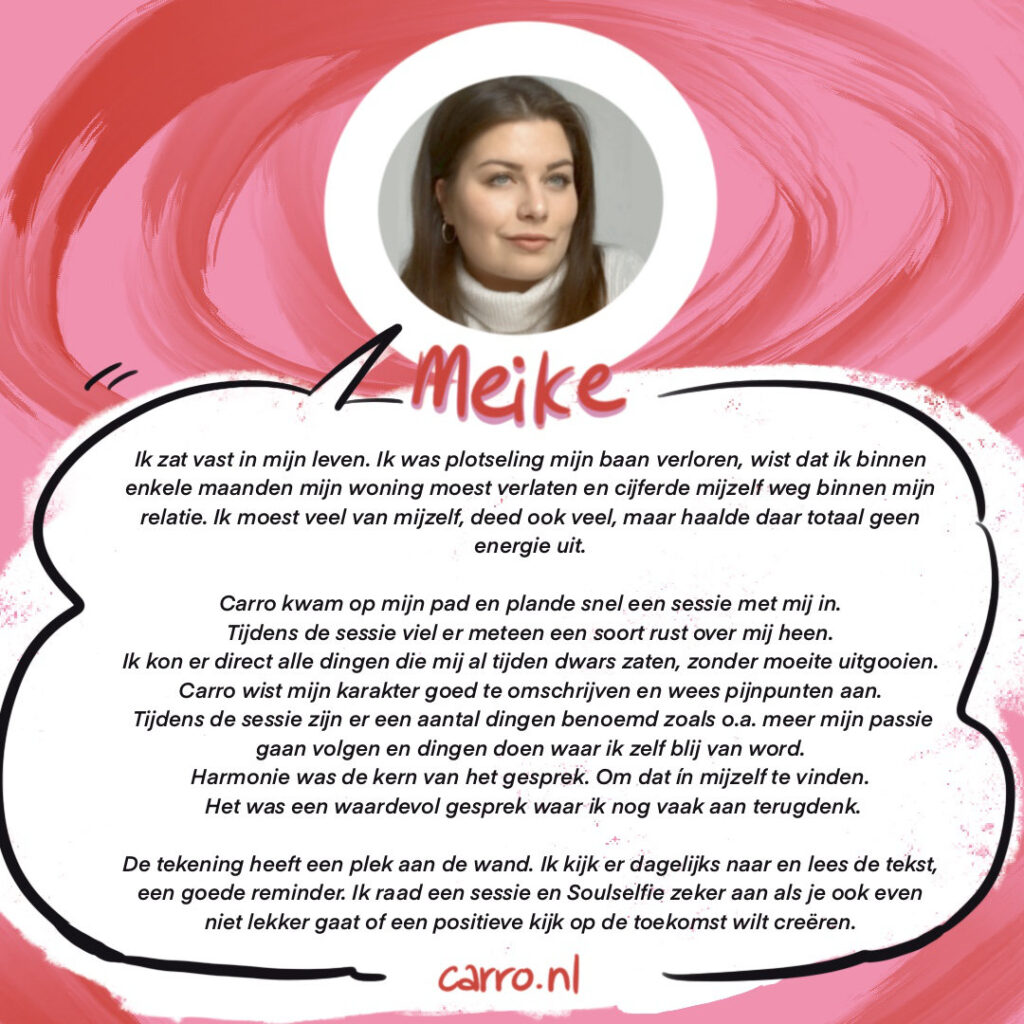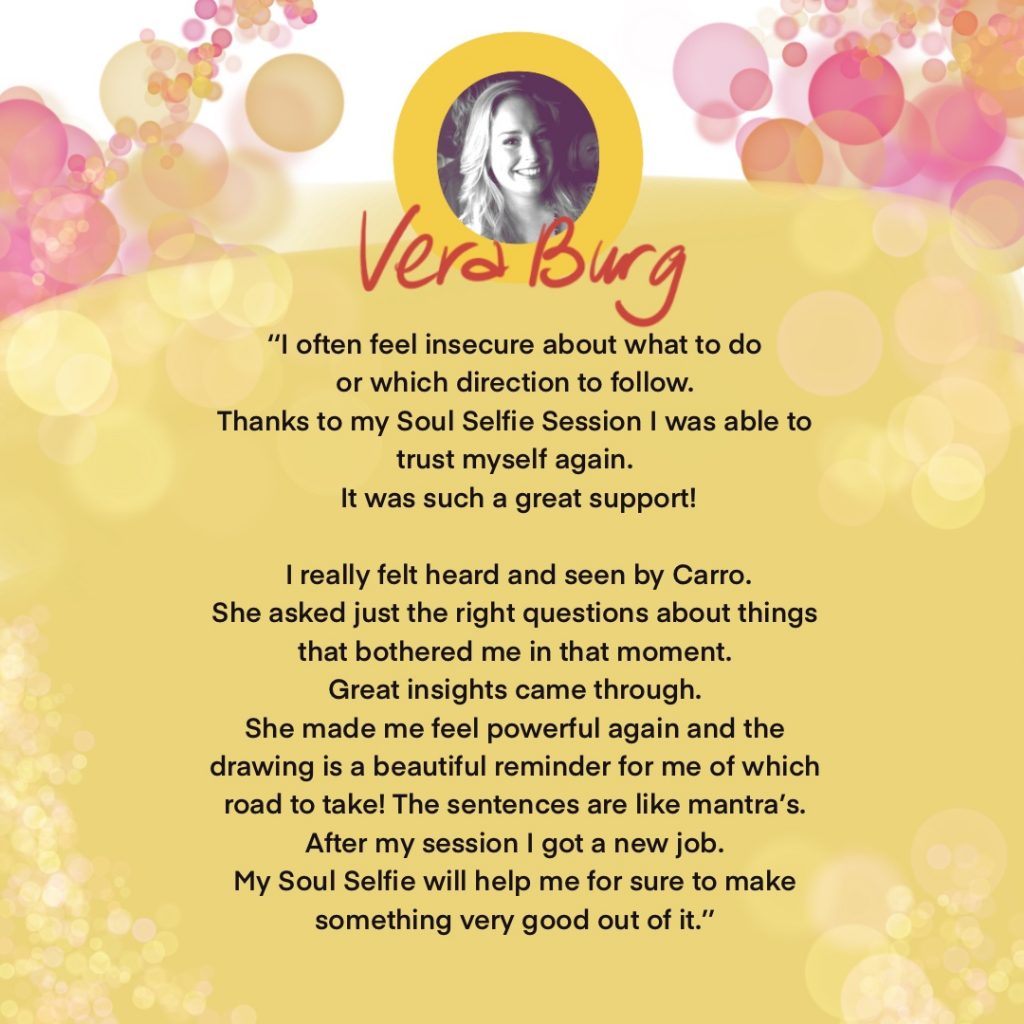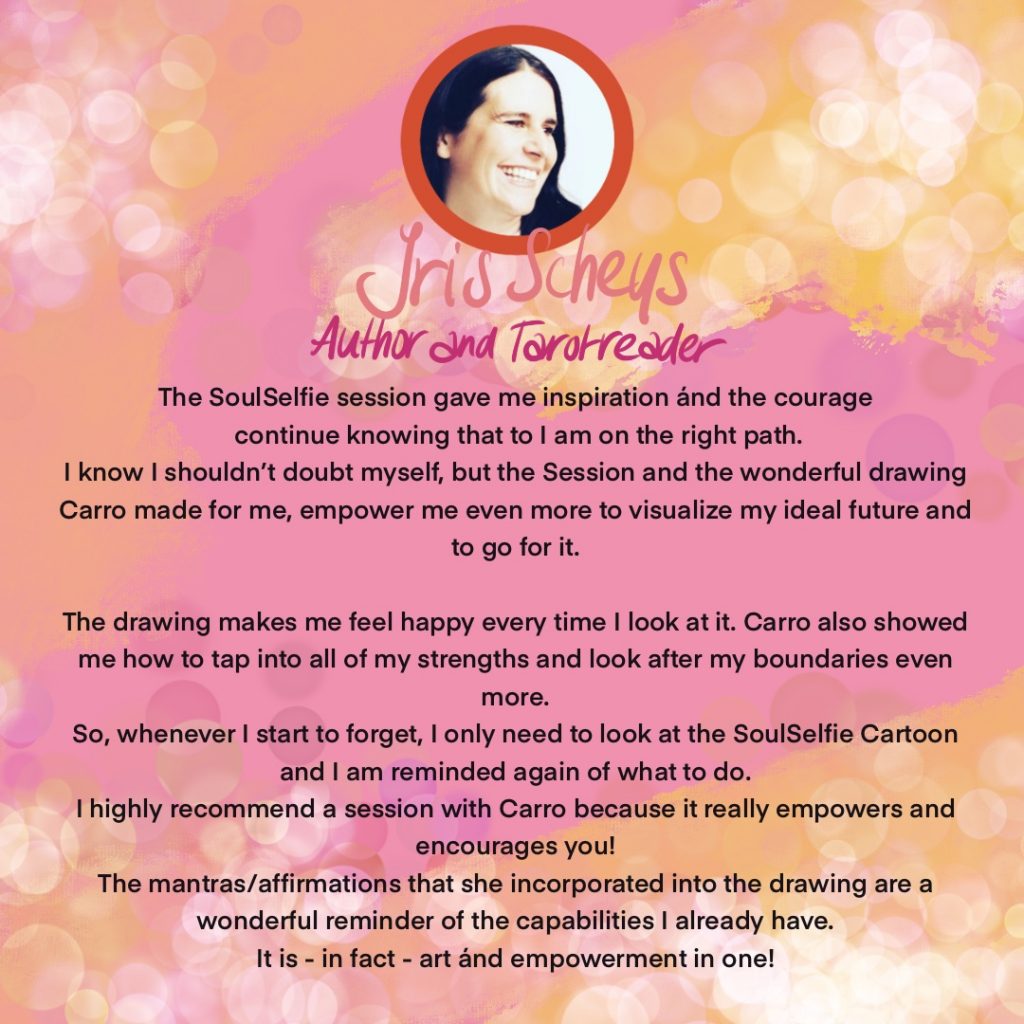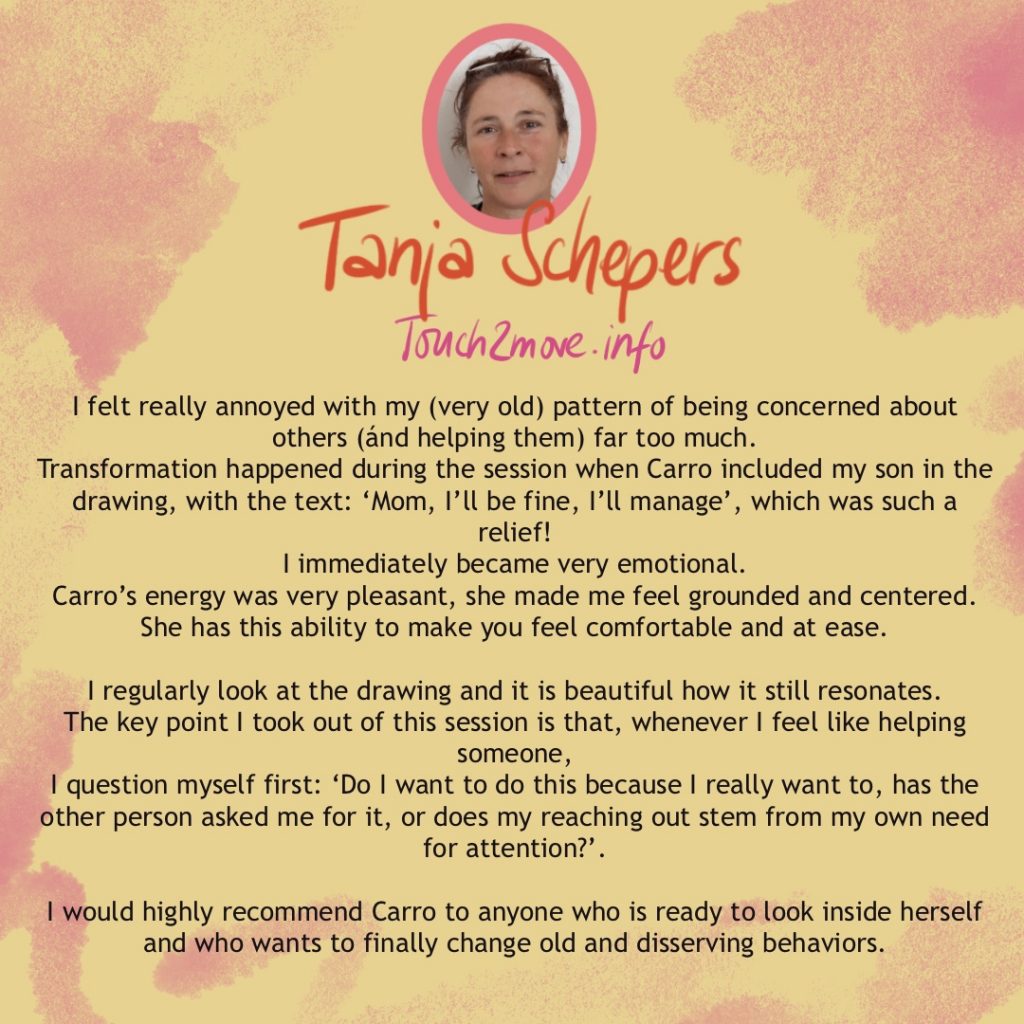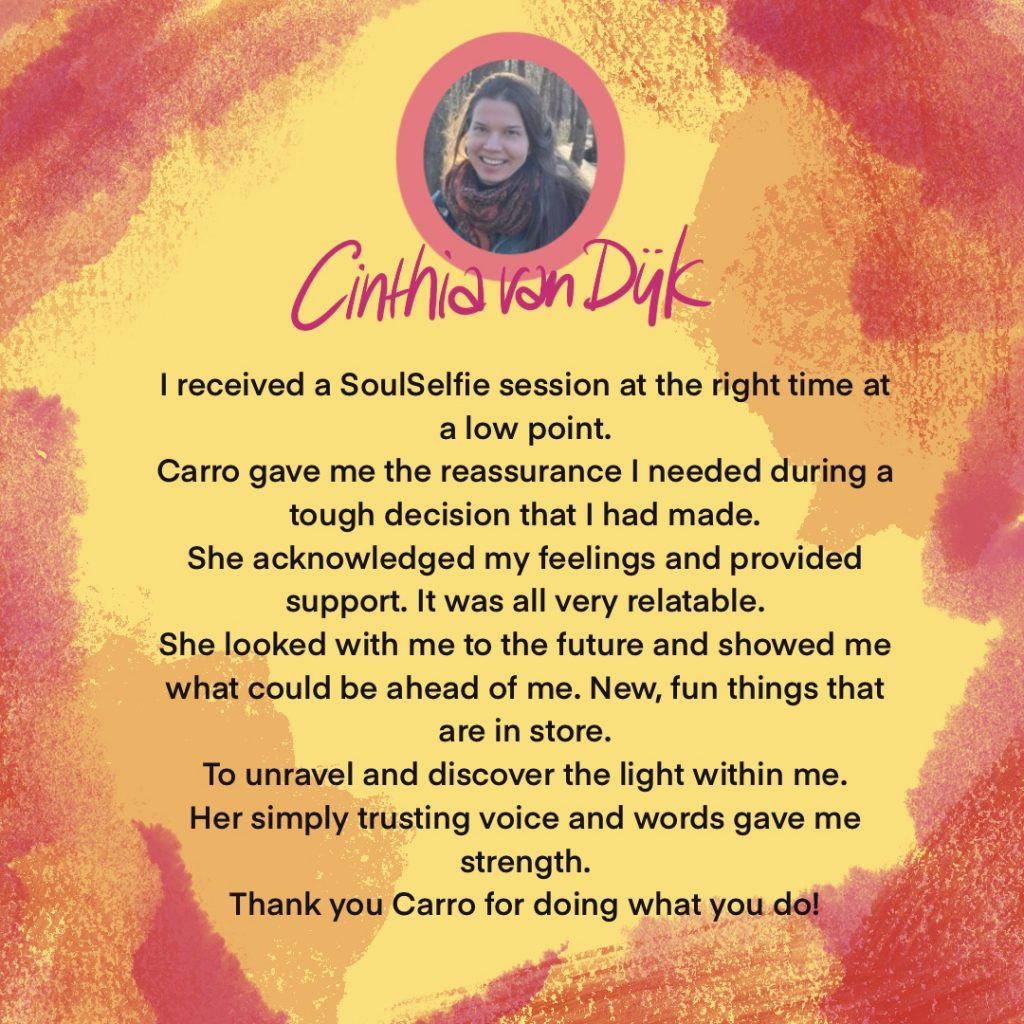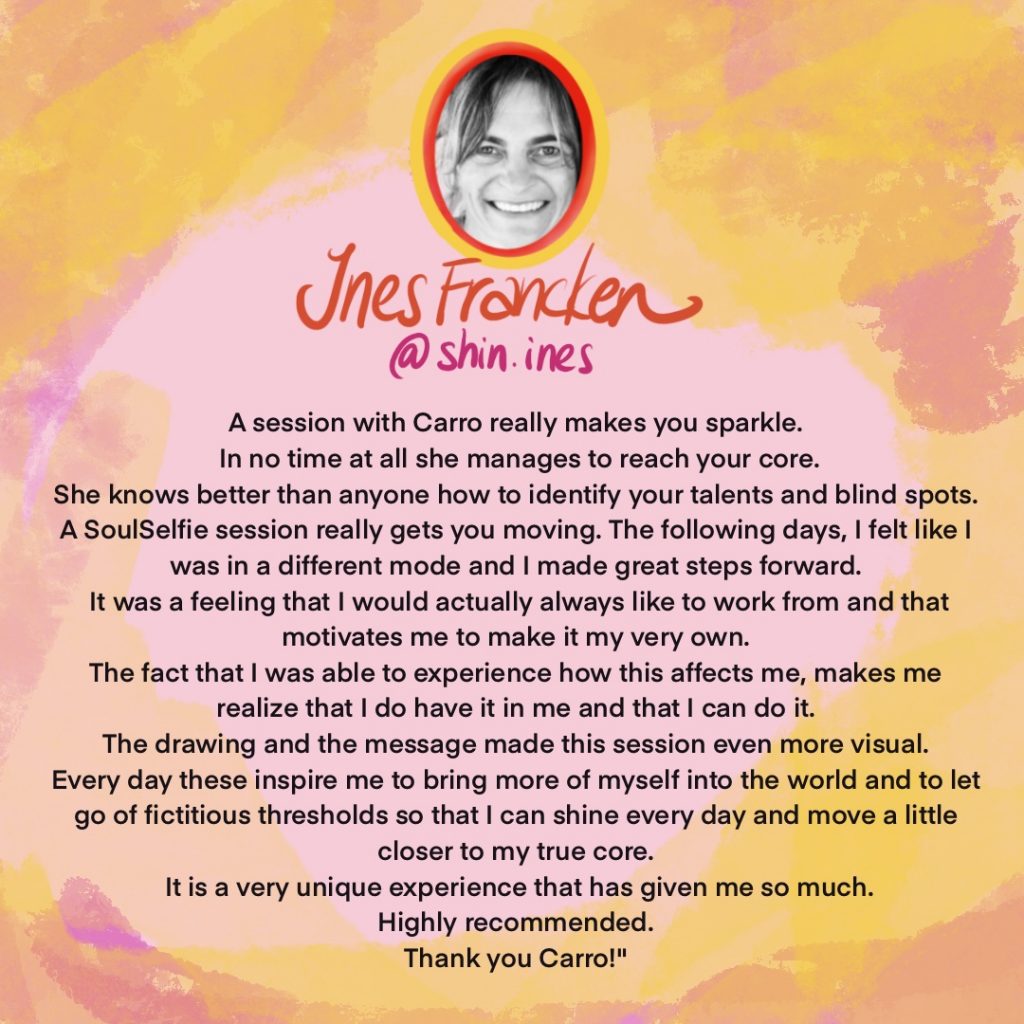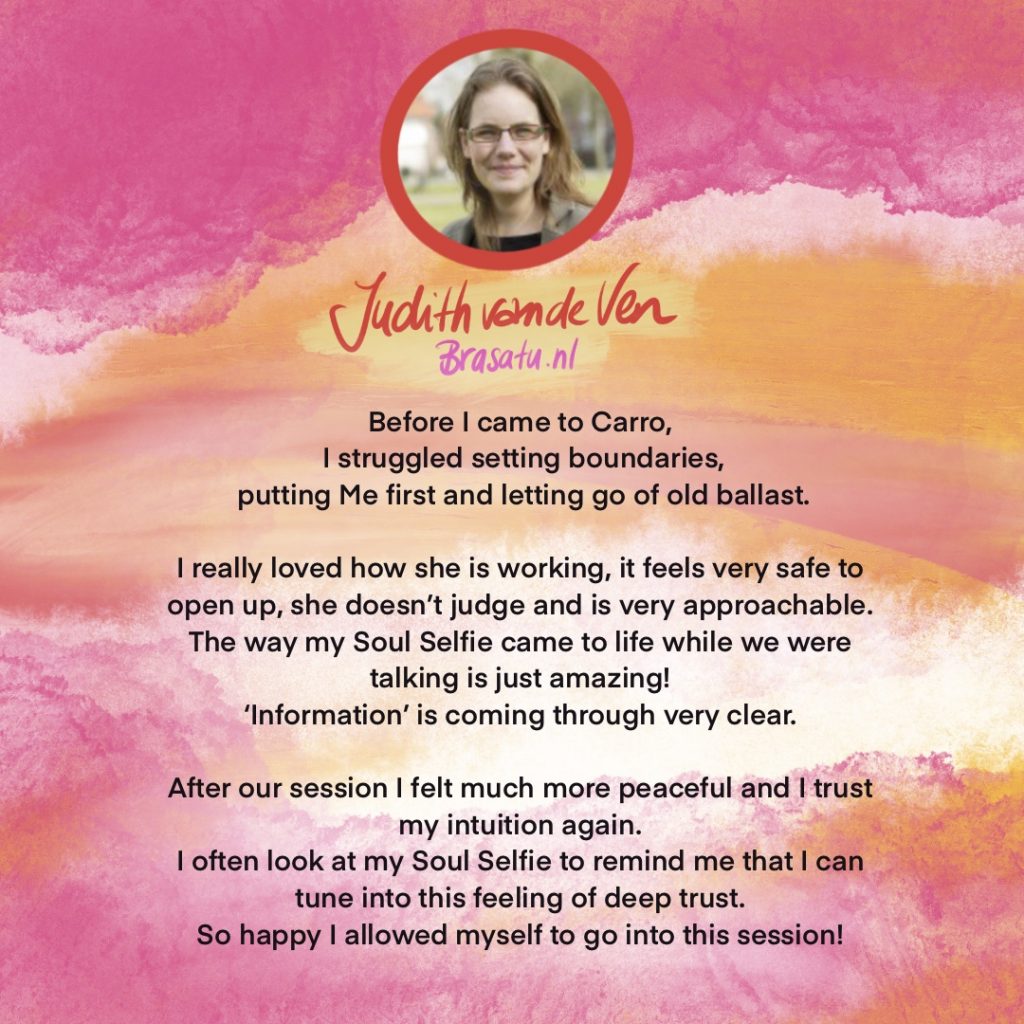 Jeanette Bos:

'The Soul Selfie Carro created for me was a bullseye! I love how clear it is, and how she immediately grasped the essence, the core. Carro has this exceptional skill to attune to others and express it with great precision. 

It's about what exists, what deserves attention, what matters, what is important and provides insight. And she does this in a delightful, loving, and light-hearted manner, both in conversation and on paper.

I would recommend it to anyone. I find it enriching. I see mine every day because it has a special place in my living room. Truly a fantastic gift to give or receive!'

www.gewoonjeanette.nl

 

Amanda:
'I am currently burned out and struggle to find my inner flame again. Hands down I wanted to join Carro's Soulday and I must say: I have no regrets at all!
My biggest insight was that this inner flame is only blocked by my critical inner voice. It makes me realize even more that I have consciously to work on my blocks daily.
Carro is really embracing you with her warmth, humor and wisdom and it felt completely safe to be all of me during our wonderful day together.
I can only assure you to gift yourself with a day like this, especially when you look for a deeper connection with your Soul.
The whole day made me feel happy and fulfilled.'
Marjolein :

"In the group where I work, there were conflicts among the members. This affected the atmosphere and productivity. No one knew how to resolve the situation anymore.

I asked Carro to make a drawing because I wanted to show the group my ideal vision: a workplace like an oasis, where everyone enjoys coming and can work in harmony with others. She created a colorful and cheerful drawing of our workspace, depicting us as a group happily working 'in the flow'. Everyone who saw the drawing in the group liked it and immediately recognized us. From their reactions, I could tell that it gave them hope, as if the drawing reminded them of how things could be better and sparked a desire for it. The initiative for this drawing and the attention to meaningful details were highly appreciated.

The drawing became the starting point for a fresh start without any debate, allowing us to make new agreements together. The atmosphere is now good, and everyone is enjoying it. The drawing hangs in our cafeteria as a reminder."
Claudy Voskens
Organizer & coach op de werkplek
www.puurstructuur.nl
"I thoroughly enjoyed the session, finding it both pleasurable and calming.
Carro displayed an incredible ability to articulate and visualize exactly what was happening, even without any prior knowledge. It was truly remarkable.
Carro's warm and open attitude immediately made me feel secure and at ease.
I proudly display the drawing in my office and believe it deserves to be framed.
Every time I glance at it and read the accompanying words, I am once again reminded of the current situation.
I highly recommend a Soul Selfie session to anyone interested in a beautiful and surprising way to reflect on oneself and bring to light what is at play. People often remain consciously unaware of these aspects, making it all the more valuable."
Masja Slootweg-van der Henst
LinkedIn Businesscoach
www.linkedinvoorondernemers.nl
"I met Carro when I had just revamped my professional profile, transitioning from being a broad social media advisor to a LinkedIn business coach.
Everything needed a makeover: my website, my branding, and even my company name. Additionally, I wanted a short introduction video that showcased who I was and how I could benefit my clients. Carro created exactly that for me.
LinkedIn is a professional networking platform, but I also wanted to convey that it could be fun and not too "serious." And we succeeded. What's great is that all the visuals used in my video were also provided separately, giving me immediate content for my social media posts. I receive a lot of positive feedback; it resonates with people.
It helps lower the barrier to getting started with LinkedIn, which aligns perfectly with my mission of helping more entrepreneurs experience the opportunities LinkedIn offers. These opportunities include increased visibility and better discoverability, allowing you to stay top-of-mind and attract clients more easily.
Carro's cartoons play a significant role in this. I wholeheartedly recommend Carro!"
 Silvia Verhoosel
Uitdrukkelijk Communicatieadviseur
Projectmanager bij IKONS.nl en @TMC
"At a conference, we enlisted Carro to create illustrated summaries capturing the key points from the speakers' presentations.
Carro skillfully portrays the essential elements of a story in their characteristic drawings, adding a touch of humor.
These drawings were showcased during the post-conference walking dinner and sparked engaging discussions.
Additionally, we found great use for (portions of) the drawings as illustrations in a whitepaper documenting the conference. Live visual storytelling proved to be an exceptional method for presenting a captivating and unexpected representation of each presentation."
Ghislaine de Brouwer-Smeeman
Directeur Stichting Brede Scholen Boxtel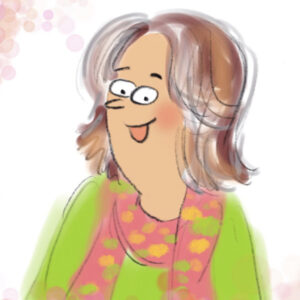 "Carro has carried out various assignments for the Brede Scholen Boxtel, consistently meeting the satisfaction of both the board and the team.
Creativity and humor were fundamental aspects in executing the latest task, which involved designing illustrations for the ongoing developmental lines of 'Sports and Healthy Behavior,' 'Language Development and Reading Promotion,' and 'Art and Cultural Education.'
What made our collaboration particularly pleasant was the manner in which we achieved alignment and coordination."
Amanda Schiltmans
Q-Studio, Son en Breugel
"Carro is amazing at turning words into pictures!
She created a fun character named 'Woudje' for Beleef! Het Groene Woud magazine and drew a cartoon or comic strip for each quarterly edition that perfectly matched the theme.
In the cartoons, Carro managed to include almost every topic we covered, making them all come together in a cool and coherent story. It's really impressive how she combined about 10 different things into one visual narrative.
Working with Carro was not only professional but also enjoyable. 
She understands the value of sharing and collaboration, which is like giving and getting back more. I really hope to collaborate with her again in the future." 
Frans Besselink
Eigenaar/Coach/ Begeleidingsdeskundige
Dimensie.net
"I was specifically looking for ways to visually convey my message in my training sessions.  A message becomes more comprehensive when there's a combination of visuals, talking, and action.
What I really appreciated about working with Carro was the calmness and space she provided for me to express my needs.
The communication felt confidential, and I immediately felt at ease. Carro takes personal leadership in a very pleasant way.
Through our exchanges and the initial sketches, it became clearer to me what exactly I wanted to achieve.
Our discussions allowed me to get to the essence of it all, which was fantastic.
I'm very happy with the outcome Carro provided, and I use it in my work on a daily basis. I would definitely recommend Carro to others."
Gerry Roche
Coördinator Cultuurbox.eu
"Over the past few years, I've developed a special and positive connection with Carro. She is truly inspiring, reliable, caring, skilled and always willing to collaborate. Working together with her feels great.
Carro has conducted workshops in schools, and she made sure to include children from special education (ZMOK) as well. Every child received plenty of attention, and their creations were always valued.
She puts a lot of emphasis on each person's unique personality and gives it the attention it deserves. On top of that, she designed amazing discovery kits for a kindergarten project, which are now being used every day at the museum."
Laura de Graaff 
Programmanager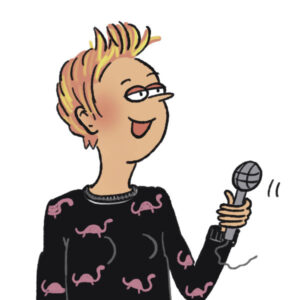 Within our organization, there is not enough communication through images, which is why we have asked Carro to come and draw.
The initial invitation to Carro was extended during a festival, where she spent the entire afternoon walking around and capturing the essence of workshops and the event itself through her drawings (These drawings are still up in our buildings even after a year).
Carro is very good at listening and observing and putting it recognizably on paper. Her casual style and humor make that each drawing brings up a smile of recognition.
After the festival, Carro now creates a comic strip for our staff magazine four times a year. Through an online interview, she produces a visual story that tells a success story. She manages to capture the essence from an interview, and every strip hits the mark.
It's easy to work with her; she is flexible and quickly adapts things. I highly recommend Carro if you are looking for a casual style, insightful observations, and cheerfulness!